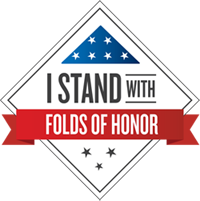 4/8/2017
Dear Family/Friends and Associates,
I recently signed up to raise funds for Folds of Honor to help the children and spouses of those fallen or disabled while serving our nation. I have never done anything like this before. We live in a time when there are people at every turn who need some type of help. I realize at times the number of requests may even seem burdensome/overwhelming. I recently sat in a training meeting where I was blessed to listen to a young woman who had her life changed as a result of Folds Of Honor. I was deeply moved and have made a decision that this organization is worthy of my time and effort. Please take a minute and if you feel moved to donate please do. You may also choose to donate anonymously. I have a first time fundraising goal of $5000.00, and I am asking you to help me to reach it with a donation of any amount. I ask you to help me honor the sacrifices made by these families through funding educational scholarships. The families of these heroic service members have the drive and potential to reach their academic goals. But they need our financial support to get there. I invite you to contribute to my efforts by visiting Rightway Air Conditioning's page and making a donation to Folds of Honor. If you prefer, you can send your contribution to the address listed below.
Thanks for considering my request! If you are moved in any way by this please forward this page to your circle.
Sincerely,
Chris Carlson
Rightway Air Conditioning, LLC
To make a donation online, visit Rightway Air Conditionings page:
Rightway Air Conditioning Supports Folds of Honor
To send your donation via postal mail please mail it to:
Folds of Honor
5800 N. Patriot Drive
Owasso, OK 74055
Phone: 918-274-4700

Thank You!