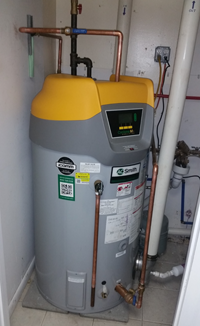 After heating and cooling, water heating is typically the largest energy user in the home because it is necessary for so many domestic activities. Consider the size of your family and the utilities in your area to choose the best water heater. The capacity of a water heater is also an important consideration. The water heater should provide enough hot water at the busiest time of the day.
         
Here are important questions to answer to determine your homes' hot water needs:
How many people are showering and when? Is there a "shower rush hour" in the morning or night?
Do you have a deep soaking tub or whirlpool? What is its fill capacity in gallons? And how often do they use their tub?
When are major appliances in use? Are the dishwasher and washing machine needed at the same time family members are showering? Most Americans are accustomed to staggering hot water use, so it is atypical to find a home where multiple hot water appliances are needed at the same time.
How much hot water is needed to deliver the experience you want in your bathroom remodel? For example, is there enough hot water to fill a deep soaking whirlpool or to operate a vertical spa-type shower for any length of time?
                        
We offer a wide variety of tank, electric, gas and tankless water heaters.
Frequently Asked Questions